Film Direction Courses
A career option for people with passion for Cinema. Mumbai is hub of Film and Television Industry. Filmit Academy is fast growing Film Direction and Film making Institutel in Mumbai. We offers Film Direction Courses, Film making Courses. We are located at calm and serene part of Mumbai. We are well appreciated by students and alumni. We are best known for good teaching at affordable fees.
please find below all the details of our courses
Duration : 1 month Short Course. and 3 months Full Course.
Fees : 1 month Short Course. Rs. 18000/- and 3 months Full Course. Rs. 45000/-
---
Learn Film Direction in Daily and Weekend Batches
Film Direction Short Course
Rs. 18,000/-
Daily 1 month include with
Story Screenplay in detail,
Pre-Production in detail,
Film Shooting practical.
---
Film Making full course
Fees: Rs. 45,000/-
All in one course
Learn Screen writing, Film Direction, Camera, and Editing.
Daily 3 months. (Monday to Friday)
A comprehensive academic course of Film Direction is the most advance in terms of syllabus, learning, and working.
Full Course on Film making include with every aspects in complete details with Practicals.
developing idea to Story and writing final Screenplay.
Pre-Production in details with Film, TV, Documentary, Ad film, Digital Video making.
Learning Camera
Film Shooting practicals.
Post Production in detail include with Editing.
Weekend Film Direction Course
Saturday - Sunday Batches
short and full course
Weekend Film Direction Courses are same as regular conducted on weekend for working people. Duration of weekend courses are longer than regular.
This is complete course at most resonable price, include with career guidance.
Learn techincal and aesthetic part of Film & Television.
We cover Films, Television, Documentary, Advertisments, Web series and Youtube videos.
Call us to get more details
Learn Film Making on Weekends.
JOIN OUR FILM DIRECTION COURSE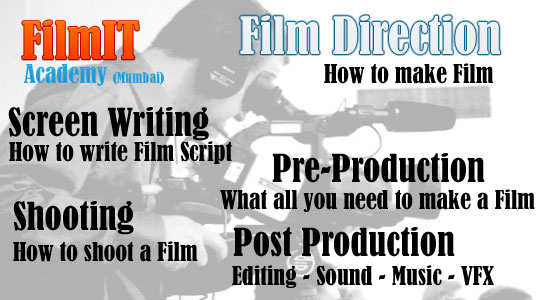 Film Direction Course in Mumbai
Mumbai is a hub of Film and Television industry. All major Production companies are located here, hence people from all over India comes to Mumbai to learn film direction course and make career in Films.
Question : What is Film Direction?
Answer : Film Direction is the most important aspect of artistic and technical part of filmmaking. It include with the imagination and visualization of a story to screenplay, preparing of production before actually shooting the film. Shoot the film with the ensemble cast, and Edit with sound to tell the story on screen.
It is a creative process that has to be learned in detail and practice before working as a film director.
--------------------------------------------------------------------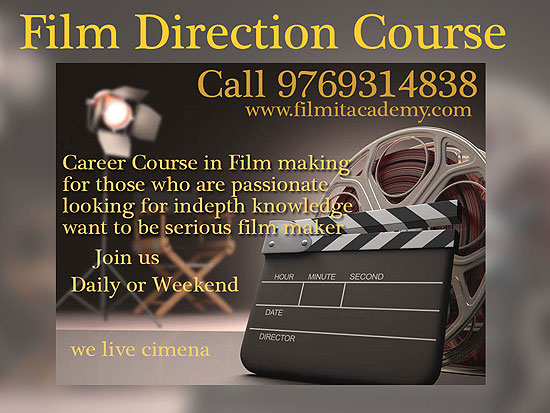 Film Direction
Learning Film Direction with us make sense . We teach Film Direction and all its elements and aspects in detail. We teach theory and practicals that helps students to make a complete film project on its own. There are many things to learn beside learning film making theory for shooting a film. We understand those points and teach our students the right way. We teach how films and tv shows are made in India.
Our fees is the best part of our course. You learn so many things in such a small amount. We assure there is no hidden cost in our course.
One very important part we teach is "Theatre Direction" which is included in course and that helps you learn the "blocking of Scene", "Lighting", "Composition" "Framing" and performance from your actors.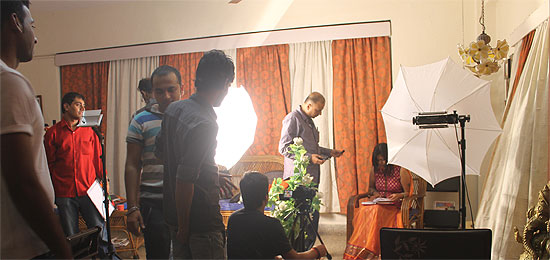 Who we are : We are fast growing Film Direction Institute that offers Film and TV Direction Course in Mumbai at cheap and best price. Its a 2 to 3 months complete course with theory and practicals. Learning with us is fun. You learn in a friendly enviroment. We teach you how to turn a idea into film. This is a kind of complete film making course because you learn film making, film shooting from scratch include with Story and Screenplay writing to final copy.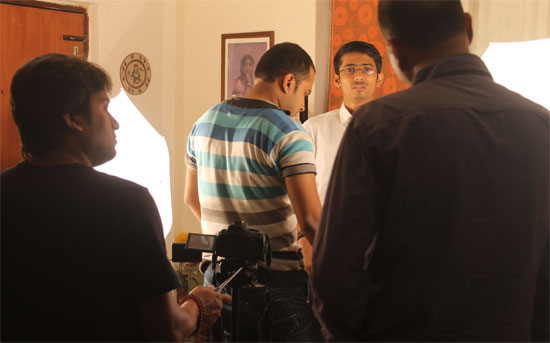 Students willing to learn film direction can join us in Mumbai. Those who are in Mumbai or coming to Mumbai from any part of India, or world with passion for films and are serious about film making can be with us. We take you on journey to the glittering world of glamour, Imagination, talent and creativity.
Faculty
We have well experienced teachers inhouse to teach film direction daily and we also invite working directors to our institute from Films and TV media to conduct extra lectures and interaction with students. We believe in practical. We have inhouse all the equipments for Film Shooting. We invite teacher with working practical experience.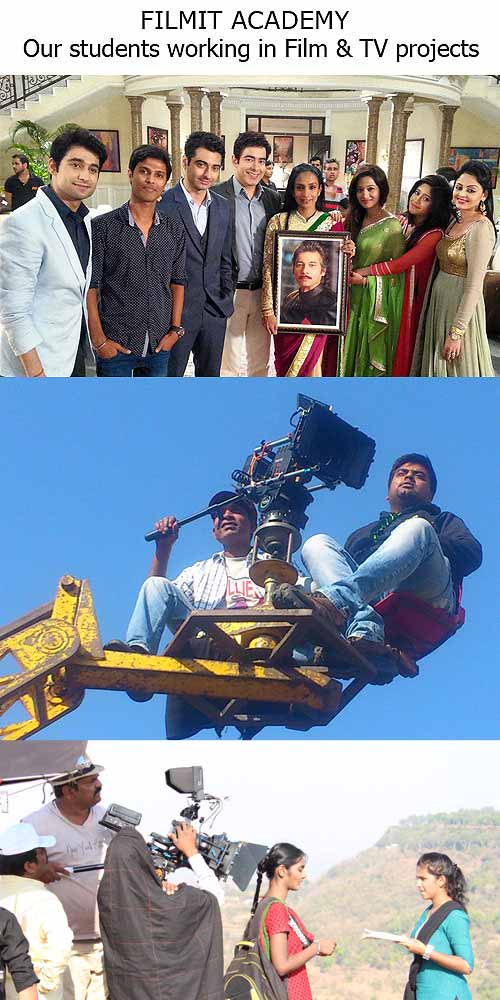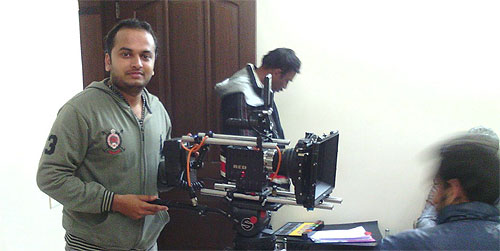 What you learn in Film Direction (syllabus overview)
Overview
Film Appreciation
Introduction and History
Story / Screenplay / Dialogue Writing.
Planning Film or TV Project
Pre Production.
Shooting
Post Production.
Final Copy.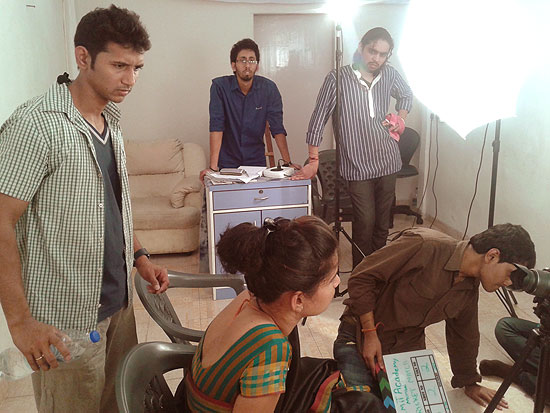 Syllabus for Film Direction Course
Full Course of Film Direction in detail.
History of Film and TV media.
Introduction to Screen Arts and elements.
Understanding cinematic storytelling
Narrative and non-narrative forms.
Linear and nonlinear
Storytelling across film, television and other forms.
Working knowledge of film grammar.
Understanding Story, Screenplay and other Scripts formats
Script and Charachter Analysis
super objective
Project Planning and Creative team (Film, TV, Documentary, TV Advt.)
Casting and Aesthetics
Scene blocking.
Types of Cameras and lenses for Film, and TV.
Understanding other shooting equipments.
Process of Pre Production.
Teambuilding.
Understanding Celebrity system.
Understanding and using Clapboard.
Understanding TCR
Types of Shots and Scene Composition.
Golden ratio and Rule of thirds
Shot division and visualizing the scene.
Film scheduling, Breakdown and Production Management.
Production fundamentals
Shoot planning
Location scouting (Recce)
Principles of Photorealism
Understanding classic and contemporary composition
Symbolism
Post Production Process and Assembling key components
Understanding Editing.
Types of editing
Editing Process
Scene Analysis
Understanding VFX, Chroma, DI,
Understanding Sound Mixing and Dubbing
Final Copy. (Married Print)
Course Duration : 3 months (Daily Mon to Fri)
Fees : Rs. 45,000/- only.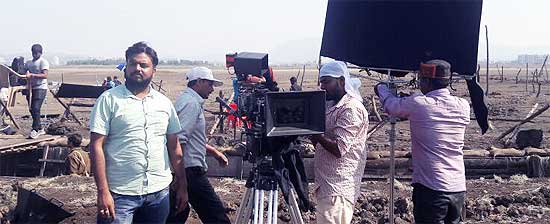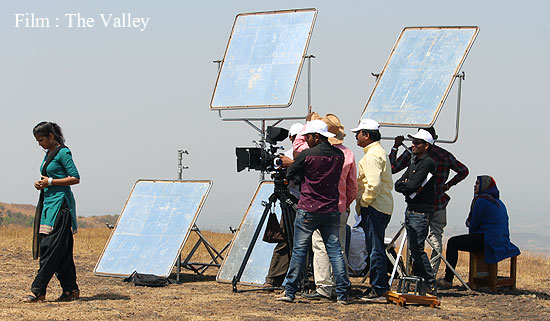 Students shooting practice film.
Opportunity : There are more than 1000 production houses in Mumbai and all need a bunch of assistants to help them in their films and TV projects. We do not promise any guarantee. But we assure we help our potential and hard working students to get job as assitant director.
Our Students have achived awards for Best Short film, Writing, acting, and working in various production house as Director, assistant, associate, creative head, EP, in various Film, TV, Documentary, Web series and Advertising projects.