Voice Training in Mumbai
Voice training Institute in Mumbai.

Voiceover is recording a off stage commentry for commercial or narration that provide audience the additional information which is not in visuals. A voice Artist need to develope a well modulated clear voice with strong ability to variate and bring the script to life.
If you have a good voice, If appreciated for the way you speak, and you are willing to learn more. Join our comprehensive voice training course.
We are voice training centre in Mumbai. We are best known for good teaching at the most reasonable price with career guidance.
Course include
How to make career in Voice Industry,
Voice-overs in TV, Films, Advt., Documentaries, etc.,
Narration,
Dubbing (Film, TV, Programs),
Anchoring on Stage,
Radio,
How to overcome fear of speaking in public.
Voiceover Training Course Details
Speaking matters
(Regular and Weekend)
Complete Course include

Warm-up techniques and Breathing techniques.

Voice Improvement exercises.

Pronunciation, Diction & Accentual Patterns.

Presentation & Speech Development.

Voice Modulation.
Voice Acting

The art of good communication.

Overview of the recording studio and Microphone techniques.

Understanding Script and practicing.

understanding VO, Narration & Dubbing.

Voice-over (VO) for TV documentaries / radio & TVC/ advertisements, corporate.
Understanding Voiceover and Demo Recording Software

Making of own demo CD and Career guidance.

Weekend Voice Training (2 months, every Sat-Sun, 2 Hours, timing : 9.30am to 11.30am
Regular (Mon-Thu) 4 days a week (1 month course) Timing 1pm to 3pm afternoon

Fees : Rs. 20,000/-
Starting 2 Days short Voice Workshop (call us for more details)
Voice training helps you respond to the emotion you are trying to express. Voice training is about controlling your sound. It help you learning new skill. It primarily deals with the vocal tone. Learning Voice training will not only develop your communication and acting skill, but you can also work as voice over artist, or dubbing artist.
for more details please contact 9769314838
This course is designed by India's No. 1 voice artist.
Mr. Harish Bhimani.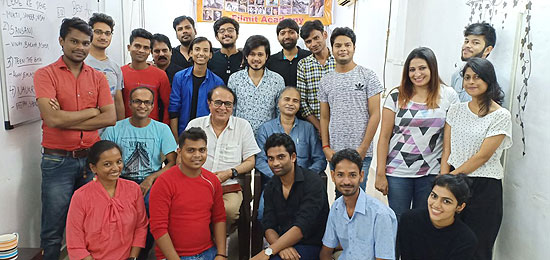 ---
News
Filmit Academy rated one of the best Institute for Voice Traing
Article on Rediff.com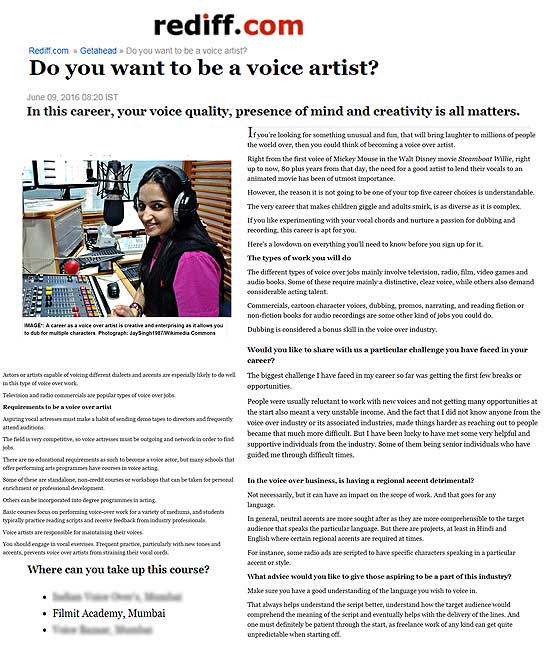 Article in Amar Ujala Newspaper.