Film Editing Courses
You want to make career as Film and Video editor. Here we give you choices for Film and Video Editing Courses in Mumbai.
If you are looking for Cheap and Best Course to Learn Aesthetics, Technique, and Grammar of Film Editing in Mumbai. We are fast growing Brand as Filmit, best known for Film Editing and Video Editing Courses.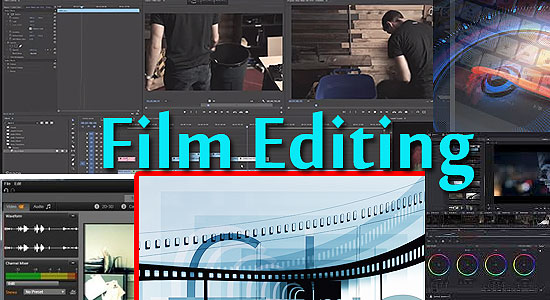 PROGRAMS : Film Editing
Batches : Regular & Weekend
Courses :
Regular (Mon-Fri)
Weekend (Sat-Sun)
----------------
Fees : Video Editing course Rs. 25,000/-
Duration : Regular 2 months or weekend 3 months, 2-3 hours daily.
-------------------------
Film Editing course 40,000/- Duration : Regular 3 months or weekend 4 months, 2-3 hours daily
( No hidden cost)

Learn to edit Film, TV, Music Videos, Commercial Advertisements, Documentary films, Corporate films, Short films, Web series.
Full Practical Course.
with Advance theory course based on Industry Standard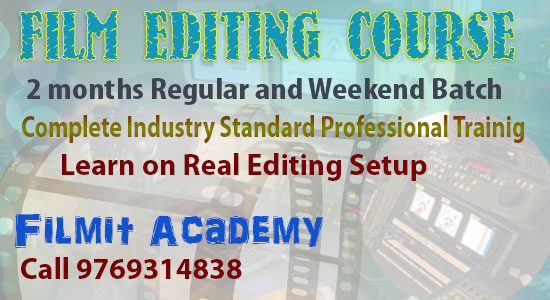 Learn Film Editing from Experts
Editing is important technical part of Film post production process which is now totally digital and is done with the help of Advance Softwares.
Film Editing is reffered as invisible art. It need expert teacher with good knowledge to lean and lots of practice to become a good editor.
We teach Film Editing that covers all the aspects of Film and Video Editing on the latest Non linear setup include with step by step process of Post Production process of Cinema and Television Industry. Course is available as full time and part time. part time course in film editing is specially designed for working people. Also our Film, Video Editing fees is less and reasonable.
Film Editing Course Mumbai
It is better to learn Film Editing compare to learning only video editing. Most of the jobs for Editors require the knowledge of basic film asthetics. Learning Film Editing, Start your career as Film, TV Editor, Learn Industry Standard Editing System that make you professional Editor. Learn that make sense and help you build career. We teach Film Editing and all its elements and system in detail. We teach theory and practicals that helps students to edit complete film, TV show, Short Film, Music Video, Web series, Youtube videos on its own. There are many things to learn beside learning film Editing software for editing a film or any visual project. We understand those points and teach our students the right way. We teach how films and tv shows are edited in India.
Our fees is the reasonable and best part of our course. You learn so many things in such a small amount. We assure there is no hidden cost in our course.
Editing is not all about cutting and joining videos. Its about the sense that need lots of understanding, learning, and practice.
We make sure our student get enough practice and knowledge from teacher to start working as professional editor in TV and Cinema. No matter you learn this course in daily, regular batch or learning Film and video editing on weekends or part time course.
We assure there are lots of Job Opportunities for a Film and TV Editor post.
Who we are : We are Film Direction and Film Editing Institute that offers Film and TV Direction & Editing Course in Mumbai at cheap and best price. Today we are charging Rs. 25000/- for 2 months complete course with theory and practicals. Learning with us is fun. You learn in a friendly enviroment. with advance theory and editing practical on real editing setup that is used to edit film, tv shows, music videos, ad films, youtube channel videos.
We conduct Film Editing Regular and Weekend Batches.
Students willing to learn film Editing can join us in Mumbai. Those who are in Mumbai or coming to Mumbai from any part of India, or world with passion for films and are serious about film editing can be with us. We take you on journey to the glittering world of glamour, Imagination, talent and creativity.
Faculty
We have well experienced teachers inhouse with a work experience from steenbeck to digital editing for teach film editing daily and we also invite working editors to our institute from Films and TV media to conduct extra lectures and interaction with students. We believe in practical. We have inhouse all the equipments for Film Editing. We invite teacher with working practical experience.
----------------------------------------
What you learn in Film Editing
Overview
Introduction and History
Theory of Editing and Industry Workflow.
Understanding Screenplay, Sequences, Scenes, Shots, Frames.
Understanding Video Formats, Caputring and Media.
Understanding Project, Interface, Softwares.
Practically Editing on Setup
Editing difference Film, TV, Advt, Promo, etc.
Mixing, Digital Intermediate, Chroma,
Post Production Process.
Rendering with Final Copy.
-------------------------------------------------------------------------
Syllabus of Film Editing in detail.
History of Film and TV media.
Introduction to Screen Arts and elements.
Understanding cinematic storytelling
Narrative and non-narrative forms.
Linear and nonlinear Editing
Storytelling across film, television and other forms.
Working knowledge of film Editing.
Understanding Screenplay and Film and Video formats
Understanding Editing Software Analysis
Editors super objective
Format Planning and Creative edit (Film, TV, Documentary, TV Advt, Music Videos, Short films, Youtube channel movies, corporate films.)
Editing and Aesthetics
Scene and song Editing.
Types of Cameras and shots formats for Film, and TV.
Understanding other Editing equipments.
Process of Pre Production.
Understanding Time code and using Interface.
Understanding Video and Sound (Audio) Folley, Background
Types of Edits and Scene Composition.
Golden ratio and Rule of thirds (Advance)
Shot division and visualizing the scene.
Film and TV Edit scheduling, Breakdown and Assembly.
Editing fundamentals
Principles of Photorealism
Understanding classic and contemporary Editing
Other Post Production Process.
Types of editing Softwares
Editing Process : First cut to Final Cut.
Scene Analysis
Understanding VFX, Chroma, DI, CC
Understanding Sound Mixing and Dubbing
Final Copy. (Married Print)
Opportunity : There are thousands of Editing Studios and production houses in Mumbai and all need a bunch of Editors to edit their films and TV projects. We do not promise any guarantee. But we assure we help our potential and hard working students to get job on Intern as Editor or assitant Editor.